Hello, there! This is Eric Muss-Barnes. Back in 2007, along with Holly Lyons, the #1 World Cup Bowl Skateboarding Champion, I made a free skateboarding DVD teaching people how to skate, called Learn To Ride A Skateboard. Producing, directing, writing and editing that project was a huge investment which took tons of work, money and time to create. I give away the Learn To Ride A Skateboard DVD for free, simply because I love skateboarding and I wanted to share skating with as many people as possible.
Two years later, another skateboarding project was born - California Girls Skateboards. I was inspired to start California Girls Skateboards in May of 2009, after getting the idea to create a custom board.
Being an avid skater since I was about 16 years old, I had only ever ridden street and pool boards. In the Fall of 2008, purely for a change-of-pace, I bought my first longboard. I just wanted to try one and see what they were like.
I was astounded by how much fun they were, and how different longboarding was compared to riding a shortboard. No longer content with pool and street skating, I became obsessed with learning as many different styles of skateboarding as I could. I grew interested in technical slides and snatched a pair of downhill gloves and 101A wheels. I tried dropped-deck speedboards. I played around with pintails and beach cruisers. You name it, I rode every style of skateboard I could get my hands on. Slalom and luge are about the only disciplines I didn't explore.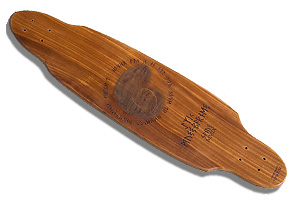 Among my favorite boards was a customized 40" hardwood longboard I purchased from a company in San Diego. I actually designed the shape and the graphics myself and they engraved my artwork into the wood using a laser. How cool is that?
Over the years, I've also done a lot of photography as a hobby. I started imagining, "Wouldn't it be great if I could print one of my photos on a skateboard? That would be a really fun way to customize a deck!"
Yeah! And, what if, instead of customizing a single board, just for myself, I made multiple boards other people could buy too?
That was when the gears began turning and I started to imagine the possibilities.

When I first started skateboarding in the 1980s, one of my favorite graphics was made by Vision Skateboards and was called the Aggressor II. It was a very 80s style of board, with lots of crazy colors and neon. The image printed on the bottom? It was a closeup of the face of a really gorgeous girl. No other skateboard had a graphic like that. Done in a very "cartoonish" manner, it wasn't an actual photograph, but looked more like an Andy Warhol illustration. Totally rad. Nothing beats hot chicks drawn in day-glo colors!
Then and now, most skateboards have very aggressive graphics on them - monsters or knives or distorted faces and all kinds of weird stuff. Heck, my first skateboard had a great big Nordic skull on the bottom! I thought it was cool. Boys dig those sorta things.
But, like any young boy, I've always liked cute girls a heck of a lot more than skulls and snakes - that was why I always wanted a Vision Aggressor II!
Influenced by the illustrated girl on the Vision deck and, considering I have been a photographer for so long, I wondered, "What if I started contacting the models I've known over the years, and we did a bunch of bikini shoots, and I used those pictures as skateboard graphics?"
The lightbulb went off. The idea clicked. In fact, the idea seemed so obvious, so simple, I was convinced someone must have done it before. I almost dismissed the idea outright, just because I figured it had to be a cliché.
Although, having been involved with skateboarding for so long, I had to admit... I never heard of anything like this before.
Therefore, I researched and confirmed those suspicions - no skateboarding company ever released a complete line of skateboards like California Girls Skateboards. Granted, two or three small skate companies occasionally released 3 or 4 limited-edition decks with similar graphics, but none ever created a full lineup quite like this.
There you have it. Now you know where it all came from and why. California Girls Skateboards is a little corny, a little silly, and it originated from laughter, sunshine, beaches, beautiful girls and, most important of all, the joy of skateboarding!
And thus unfolds the story of how California Girls Skateboards began...



P.S. After being unavailable for over 20 years, Vision Skateboards reissued the Aggressor II deck about a month after I launched California Girls Skateboards! How is that for serendipity? Woohoo! You betcha I got one!


Q: What are the decks made of?
A: Just like any professional-quality, traditional wooden skateboard, we utilize a concave 7-ply crossgrain 100% North American Maple to build our decks.
Q: What other parts do I need for my skateboard?
A: After you buy a California Girls Skateboards deck, if you are new to skateboarding, you may not know all the parts and components required to finish building your board. We do offer the option of buying a "complete" on the order page. A "complete" is exactly what it sounds like - a finished board. However, if you want to build your own, and you need to know what other parts are needed, the video below will help you get started...
Q: What sizes of boards are available?
A: With other skateboard companies, every graphic comes in one size. That is not the case with California Girls Skateboards. Every one of our board designs is available in multiple sizes, as outlined in the chart below. Neat, huh? So, you can order any image of our girls, on any size of board you want!
Style
Width
Length
Wheelbase
Nose
Tail
Description
Mini
7.25"
29"
12"
6.5"
6.125"
Tiny popsicle sticks for groms and the kick-flippy little street urchins.
Mini
7.375"
30.25"
13"
6.625"
6.375"
Comp
7.75"
31.625"
14"
6.875"
6.5"
Larger decks for more serious riders or skatepark terrain. We recommend the 8.5" for the best performance. The 8.5" is THE BEST in the lineup.
Comp
7.875"
31.625"
14"
6.875"
6.5"
Comp
8.125"
31.625"
14"
7"
6.375"
Comp
8.5"
32"
14.25"
7"
6.5"
Old School
7.125"
31.125"
13.875"
6.5"
6.5"
1970's California flashback shape with a pointed nose and tapered tail for gyrating down the boardwalk and head dippin' tube rides under the palm trees.
Old School
8.5"
32.75"
15"
6.875"
6.75"
A little wider, a little longer, ideal for ramps, vert, ditches, and pools. This is the deck all of our graphics are designed to be used on. This size is THE BEST in the lineup.

Q: What sizes do you recommend?
A: There are 2 great sizes - the Old School 8.5" or the Comp 8.5" are the boards we recommend the most. Those are the boards our graphics have been designed for. You can get any size you want, but of all your options, those sizes are THE BEST in our opinion.
Q: Do you offer completes or just decks?
A: Yes, you have the option of purchasing a complete at checkout. Our truck and wheel selections are limited, so if you are looking for specific hardware, you may want to purchase the deck alone and get your trucks and accessories at your local skateshop.
Q: When did California Girls Skateboards get started?
A: Development began in the spring of 2009 and everythng officially launched that summer. So, we've been around for about years.
Q: Are these boards available in stores?
A: Nope. Just online.
Many skaters have asked me to bring decks to the skatepark so they can buy them (even the staff at several skateparks have asked me to do this). I was tempted, but I can't do that. Skateboarding is about having fun. When I'm riding at a skatepark, I want to have a good time and enjoy myself, not run around like some salesman.
Therefore, I will gladly give out stickers or business cards when folks ask, but, if you really want a board, I just can't bring myself to have them hanging inside my proverbial trenchcoat. Not that there is anything wrong with others selling their boards at skateparks. That's cool. I know a few skaters who sell their boards and wheels in the parks and think it's great they have such ambition to promote their projects. That's just not my style.
Q: What payment methods do you accept?
A: We currently accept Visa, MasterCard, American Express, and PayPal.
Q: Does the deck come with griptape?
A: Yes. If you purchase the deck by itself, it includes a sheet of black griptape which is not applied to the deck. If you buy a complete, it comes pregripped with solid black griptape applied. The grip is a "medium-coarse" grain - slightly more grippy than Jessup and slightly less grippy than Mob.
Q: How is the board shipped?
A: In the United States, you have 3 shipping options:
Ground (4 - 7 business days) with tracking
2-Day (2 business days) with tracking
Express (1 - 2 business days) with tracking
We ship to most international locations, which includes over 100 countries. International orders may take up to 9 - 22 business days for delivery (1 business day process + 8 - 21 business days in transit). Internationally, you have 2 shipping options:
USPS Standard Airmail (7 - 21 days) no tracking
Express (2 - 10 days) with tracking
Q: How is the graphic applied?
A: The graphic is part of a heavyweight transparent laminate, baked to the wood under high pressure and heat. Superior to traditional screenprinting (which simply isn't capable of reproducing photographic prints), this thermal-printing makes for a very slick, glossy image which is waterproof and scratch-resistant.
The laminate is bonded to the deck with powerful adhesives, mirroring the process used to join the wooden plys of the deck itself. Standard temperatures in this fusion procedure vary anywhere from 375° to 425° F and demand intense forces of 40 to 80 PSI to complete.
The entire heat-transfer process makes for an incredibly durable graphic with rich and vibrant color tones.
Q: Do your boards cost more than some other decks?
A: Not at all! Their prices equal any other high-quality skateboard. Remember each boards is individually hand-made for each skater and usually shipped within 24 hours. They are not mass-produced skateboards being shot off an assembly-line. Your California Girls Skateboard was printed just for you. These aren't cheap knock-off boards being machined en masse; California Girls Skateboards are inspected and custom-built for each individual, thereby assuring you are getting a board of superior quality. Our skateboards are not an expense... they are investments.
Q: Where are the boards made?
A: They are printed and shipped from San Jose, California. Our 100% North American Maple wood is supplied and shaped by the illustrious PS Stix. Why should that matter to you? Because the engineering teams of PS Stix were founded by Paul Schmitt, creator of Schmitt Stix, who has been designing and producing skateboards for over three decades. The production teams of PS Stix have made over 10 million skateboards, so you can rest assured, the quality engineered into our decks comes from people who know what they are doing. PS Stix has made boards for companies like Plan B, Alien, Habitat, Flip, Element, Black Label and now, California Girls Skateboards!
Q: Why are you ruining hardcore skateboarding with your cheap wood junk?
A: According to the news on the June 2011 webpage of the highly-respected Juice Magazine, both Dagger Skates and Pocket Pistols are being made by PS Stix, the exact same company who makes the wood for our boards. If the California Girls Skateboards wood from PS Stix is hardcore enough for the Daggers, it's hardcore enough for you.
Q: Can I get the deck wet?
A: To preserve the longevity of any wooden skateboard, no, you shouldn't allow it to get wet. However, the graphics on California Girls Skateboards are waterproof and will not smear or smudge from small amounts of water or moisture. Note we said SMALL amounts - meaning if you ride over a sidewalk which became wet from lawn sprinklers, your board will be fine. However, if you ride for 30 minutes in a rainstorm while splashing through 4 inch puddles, yes, you will ruin any skateboard. Don't do that.
Q: How do I clean it?
A: DO NOT use any harsh chemicals on the graphic if you want to clean it. Even simple window cleaner can destroy the silkscreen paintjob on traditional skateboards. There is no way for us to test the effects of every possible household cleaning agent on our skateboards. Some may work fine. Some may ruin the graphic. We have no way of knowing the chemical reaction of everything on the market. So, to play it safe, if you want to clean your deck, we recommend you never use anything but plain water and a soft rag.
Q: Will the graphic scratch off?
A: The glossy material of the printing process actually makes the graphics slightly more durable than traditional screenprinted skateboards. However, just like a conventional skateboard, yes, the graphic will eventually wear away or become scratched over time - especially if you're doing liptricks and boardslides. Despite being marred from normal wear-and-tear, the graphics won't become damaged anymore easily than traditional screenprinted images.
Q: How do I assemble my skateboard?
A: When you buy a California Girls Skateboards deck, if you are new to skateboarding, you may not know how to put your board together. If you aren't sure how to build your own, the video below will help show you how...
Q: Who is the model in your logo?
A: The model in the California Girls Skateboards logo is Courtney Watkins, a young girl hailing from the Bay Area in California. The original photograph was taken in Malibu during 2005, a full 4 years before California Girls Skateboards began. Originally, the image was just used as a test for the concept of a bikini-silhouette in the logo. However, the test turned out so good, instead of photographing a new model, I decided to just contact Courtney and get her permission to use it. Courtney agreed and became the silhouette for California Girls Skateboards.
Q: Can I have __________ model's phone number?
A: No.
Q: Is the guy who started this, Eric Muss-Barnes, a total goofball/kook?
A: Yes.
Q: Do you have a skateteam? / Are you offering sponsorships?
A: Before you ask any company about sponsorships, ask yourself a few questions.
What are you going to give to your sponsor? How much consideration have you given to what you will provide in return for a sponsorship? Are you looking to actively support a company you believe in? Do you want to represent a brand and help give them good press? You good at giving interviews to promote your sponsor? Does your personality match the image of the company? Are you friendly and helpful to the groms? Will you brag about the quality of their products to your peers? Have you a large number of places that you skate where people can see you riding a sponsors boards? Is there a following of people who dig your skateboarding and watch your videos online? How well are you placing in competitions and getting exposure? When was the last time you attend a competition?
...Or are you just looking for someone to give you free stuff?
No. We don't offer sponsorships or have a team at this time. Maybe we will in the future.
Q: Don't you think this objectifes women?
A: Just the opposite, in fact! All of the California Girls Skateboards have been psionically treated to change misogynists into chivalric gentlemen! Pretty cool, huh? Since our skateboards have the ability to alter the minds of people so easily, we decided to use our superpowers for good instead of evil.
Q: Aren't these pictures inappropriate for kids skateboards?
A: Only parents ask such questions, and we respect their concerns. However, stop and think about it for a moment - the outfits worn by the girls of California Girls Skateboards can be seen by children, in person, on any public beach in the world! The photographs are as tasteful as Tropical Splash Barbie Dolls®, or the annual Sports Illustrated® Swimsuit Issue, or the venerated swimwear competition broadcast on national television for the Miss America pageant. The swimsuit pages of the JCPenny Catalog aren't censored and California Girls Skateboards are equally tame. Since most skateboarders are underage boys, we make sure kids can own a California Girls Skateboard without offending their parents or common decency.
After all, as teenage boys, my friends and I always had posters of bikini-clad models wallpapering our bedrooms. None of our parents complained. My devoutly religious grandmother wasn't thrilled about it (and I remember her giving me a few scornful glares upon seeing them) but, even grandma tolerated my bikini girls. And grandpa? Heck, he loved them! Goodness knows, they were no more risqué than the pinup girls painted on WWII airplanes from his generation. (Being a fantasy-geek, most of my bedroom-adorned girls wore chainmail bikinis while straddling dragons... but I digress.)
Q: What do the boards really look like?
A: Since most skateboards use painted illustrations as graphics, few can imagine what great quality we attain on our photographic images. That is why we created the sample photos below. These images provide detailed studies of California Girls Skateboards decks, so you can see just how fantastic your own board will look.
We showcase photographs of a brand new deck, plus images of a deck that has been ridden for awhile. This way, you get a clear view of your new board, plus you will see how your board stands up to normal wear-and-tear.

Enyta Romo "Cuerpo" Deck Top

Enyta Romo "Cuerpo" Deck Top

Enyta Romo "Cuerpo" Deck Side

Enyta Romo "Cuerpo" Deck Tail

Enyta Romo "Cuerpo" Deck Concave

Enyta Romo "Cuerpo" Deck Graphics

Enyta Romo "Cuerpo" Deck Graphics

Enyta Romo "Cuerpo" Deck Graphics

Enyta Romo "Cuerpo" Deck Graphics

Tiara Lanai "Kasvot" Deck Scratched Tail

Tiara Lanai "Kasvot" Deck Scratched Tail

Tiara Lanai "Kasvot" Deck Scratched Graphics

Tiara Lanai "Kasvot" Deck Mounting Bracket

Tiara Lanai "Kasvot" Deck Scratched Nose

Tiara Lanai "Kasvot" Deck Scratched Top

Tiara Lanai "Kasvot" Deck Nicked Side

Tiara Lanai "Kasvot" Deck Scratched Tail

Tiara & Enyta Decks

Tiara & Enyta Decks

Tiara & Enyta Decks

Tiara & Enyta Decks

Tiara & Enyta Decks

Tiara & Enyta Decks

Tiara & Enyta Decks

Tiara & Enyta Decks

Tiara Lanai "Kasvot" Deck Graphics

Tiara Lanai "Kasvot" Deck Nose

Tiara Lanai "Kasvot" Deck Graphics

Tiara Lanai "Kasvot" Deck Tail

Tiara Lanai "Kasvot" Deck Side

Tiara Lanai "Kasvot" Deck Nose

Tiara Lanai "Kasvot" Deck Side

Tiara Lanai "Kasvot" Deck Edge

Tiara Lanai "Kasvot" Deck Length

Tiara Lanai "Kasvot" Deck Graphics

Tiara Lanai "Kasvot" Deck Top

Tiara Lanai "Kasvot" Deck Top

Tiara Lanai "Kasvot" Deck Top

Tiara Lanai "Kasvot" Deck Top

Tiara Lanai "Kasvot" Deck Concave

Tiara Lanai "Kasvot" Deck Edge

Tiara Lanai "Kasvot" Deck Edge

Tiara Lanai "Kasvot" Deck Edge

Tiara Lanai "Kasvot" Deck Edge